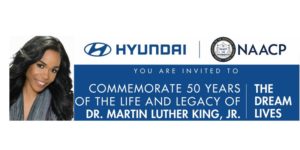 Commemorate 50 Years of the Life and Legacy of Dr. Martin Luther King, Jr.
HYUNDAI MOTOR AMERICA AND THE NAACP HOSTS "THE DREAM LIVES" PROGRAM HONORING THE LIFE AND LEGACY OF DR. MARTIN LUTHER KING DURING THE 50TH ANNIVERSARY OF HIS ASSASSINATION
MEMPHIS, TN (2018) On Monday, April 2, 2018 – Hyundai Motor America, in partnership with The NAACP, will kick off the MLK50 series of events with a heartfelt program paying homage to the life and legacy of Dr. Martin Luther King, Jr. titled "The Dream Lives". MLK50 includes events and activities to encourage others to continue the Civil Rights Movement while focusing on the theme, "MLK50 – Where Do We Go From Here." "The Dream Lives" program will help to encourage activism and spark change as we lead up to April 4, 2018, the date of Dr. King's 1968 assassination. Hosted by local radio personality Stan Bell (V101), the program will feature the TOD choir, special musical guest Michelle Williams, Civil Rights icons and community leaders.
Hyundai Motor America & The NAACP
The Dream Lives
Monday, April 2, 2018 from 7:00pm – 9:00pm.
Temple of Deliverance
369 GE Patterson Ave,
Memphis, TN 38126
Hosted by local radio personality, Stan Bell.
Program will feature musical guest MICHELLE WILLIAMS, CIVIL RIGHTS icons, and community leaders, inlcuding:
Derrick Johnson, President & CEO, NAACP
Bishop Charles E. Blake, Sr., Presiding Bishop COGIC
Rev. Jesse Jackson, Sr., President & CEO, Rainbow PUSH
Rep. Seve Cohen, US Congressman
Bishop Henry M. Williamson, Sr., CME Church
Mrs. Louise Patterson, President, Bountiful Blessings
Rev. Dr. Alvin O'Neal Jackson, MLK 50 Clergy Chair
Dr. Gina Stewart, Christ Missionary Baptist Church
Bishop Milton Hawkins, Temple of Deliverance COGIC
Lee A. Harris, TN State Senator
& More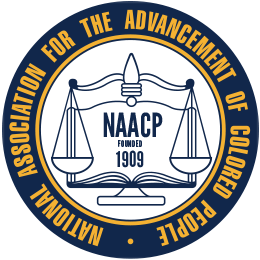 © 2017. NAACP Memphis Branch. All Rights Reserved
588 Vance Ave. | Memphis, TN 38126
901-521-1343
info@naacpmemphis.org